COVID-19 Vaccine Information & More
COVID-19 Vaccine Resources (posted May 3, 2021)
The Ohio Department of Health has introduced a streamlined tool on Ohio.gov to help Ohioans find a vaccine provider near them and to book a vaccination appointments.
Cleveland's Mass Vaccination Clinic, located at the CSU Wolstein Center, is booking appointments through the VMS system. However, if you have questions about the mass clinic, you can check out the CSU website for more information:
CSU Wolstein Center
The Cuyahoga County Public Library is offering community resources for finding Covid Vaccines, including assistance to schedule a vaccine at an area provider. You can find out more about CCPL's resources by clicking 
here
.
Listed below are additional resources for ongoing vaccine initiatives in our area that may be able to assist. If you are interested in exploring a resource below, please contact them directly at the information provided.
Cleveland Residents
- Eligible Recipients can join the Cleveland Department of Public Health's waitlist by callin
g 216-664-2222, M-F, 9a-5p
Cleveland Clinic
- 
Eligible Recipients can
 schedule through 
MyChart account
; 
Non-Patients in 1A or 1B can join the waitlist by calling 216.448.4117
MetroHealth
- 
Eligible Recipients can
 schedule through 
MyChart
 or call 
216-778-6100
if you need assistance.
The Word Church
- 
Eligible recipients can register for vaccine clinics to be held the fourth saturday of every month beginning in March.
Call 2-1-1, a United Way Program, to find providers nearby who are offering the vaccine. That service is available during the week from 8 a.m. to 4 p.m.
All U.S. military veterans currently enrolled and eligible for VA health care are now eligible to receive a COVID-19 vaccination and can schedule at one of four VA locations in Northeast Ohio by
clicking here
 or calling 216-707-7660.
Do you have questions about the COVID-19 vaccine? (posted February 11, 2021)
The Ohio Dept. of DD has made available a recording of its informational session on the COVID-19 vaccine for people and family members that was held on January 27. The forum can now be viewed on demand and addresses some of the common questions about the vaccine posed by people with developmental disabilities and their loved ones. Click HERE to view the recording. (Registration is required to watch.)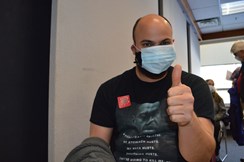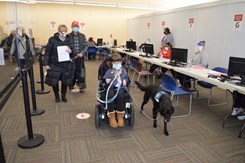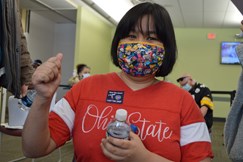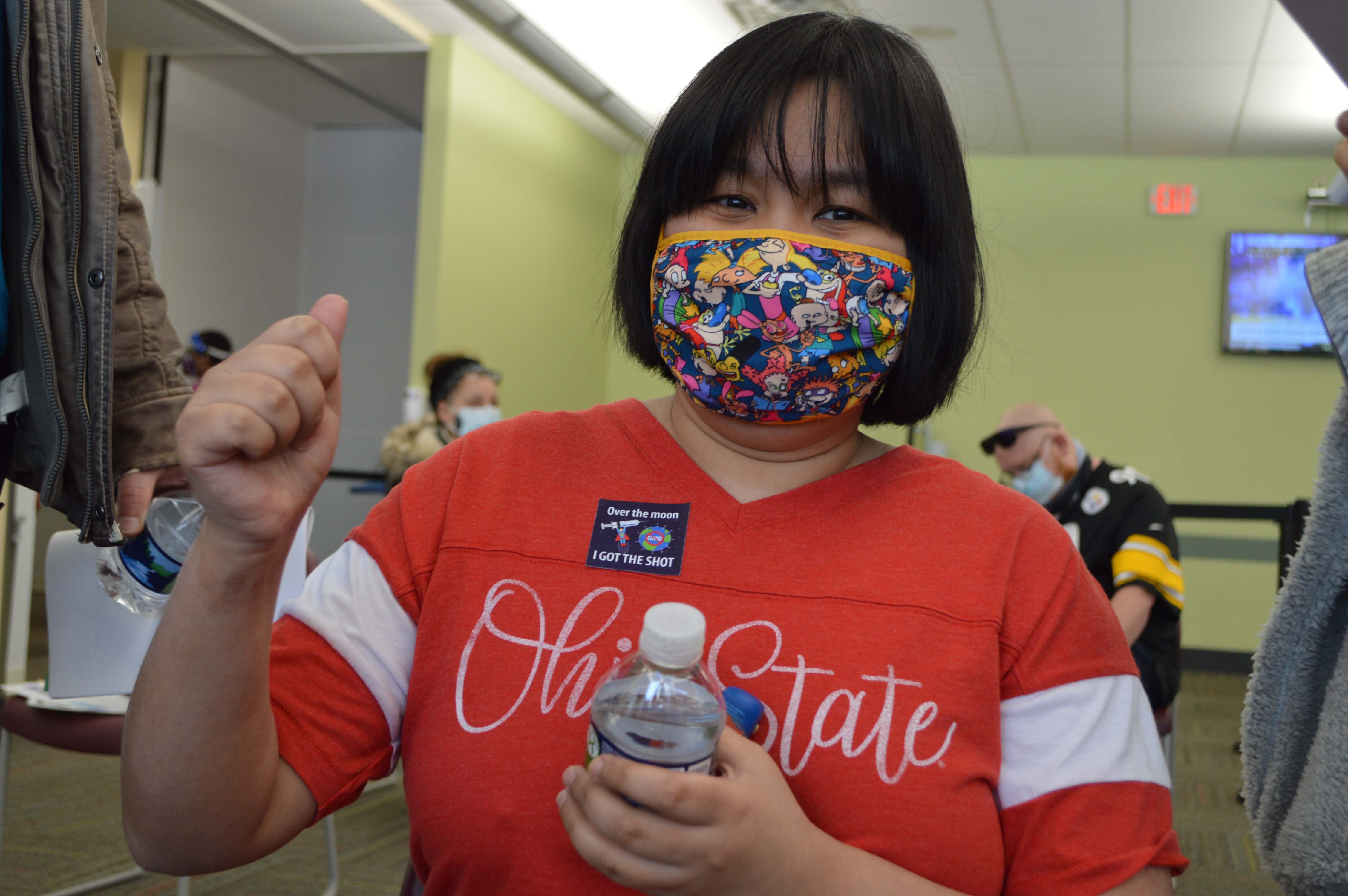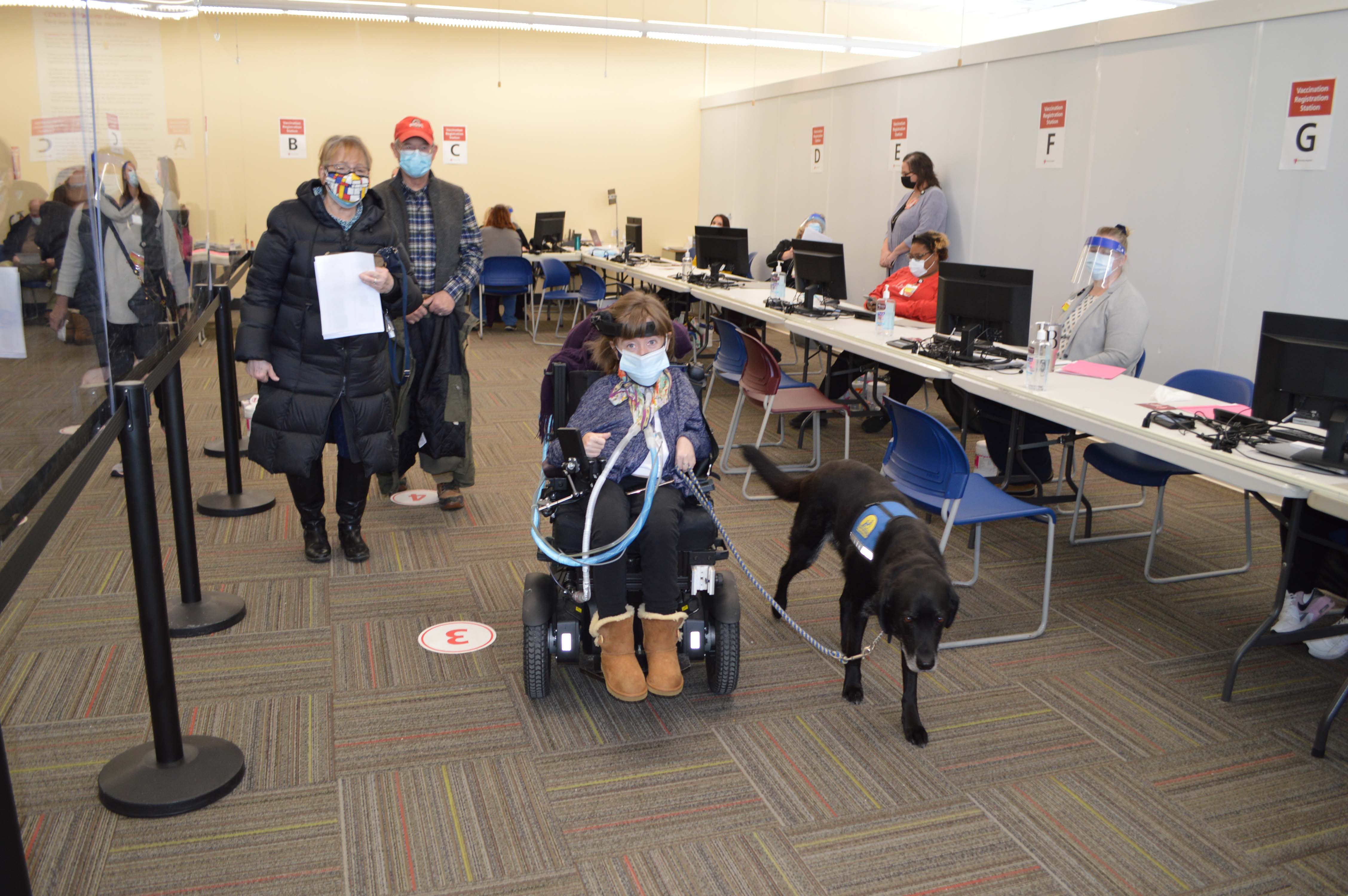 Responses to Frequently Asked Questions regarding vaccine clinics for people with developmental disabilities served by Cuyahoga DD (posted February 9, 2021)
Can caregivers also get the vaccine during a clinic?
At this time, we were only allocated a limited number of vaccines for individuals served. We are advocating with The OH Dept. of DD and the Governor's office to consider when DD caregivers can be vaccinated too.
What is the plan to help children with developmental disabilities under age 18 get vaccinated?
The current clinic uses Moderna which is available only to people ages 18 and older. We are working with the Cuyahoga County Board of Health to plan for people on our 1B list who need Pfizer because they are ages 16 or 17. Even if you don't have a Support Administrator, if you are on our list we will contact you as soon as we have information.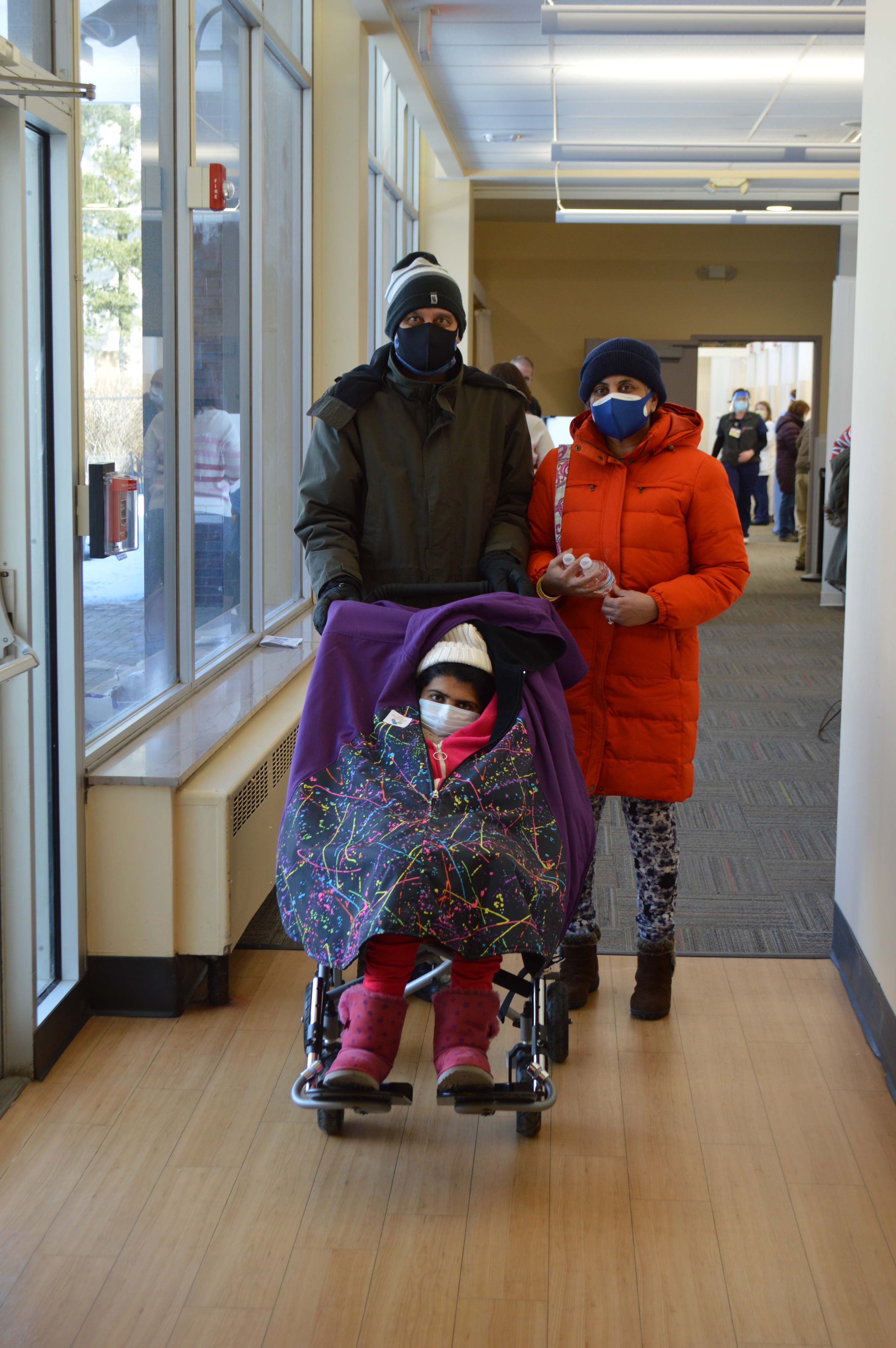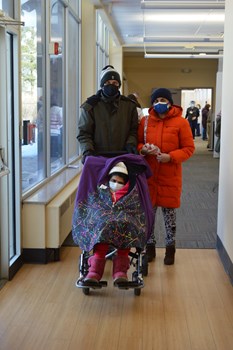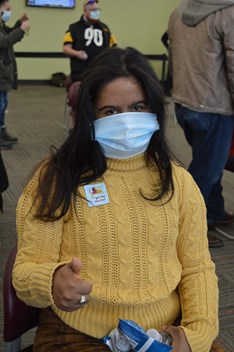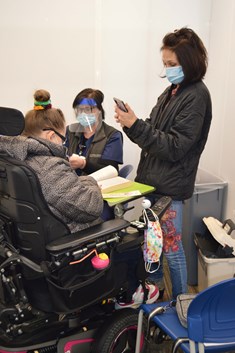 Important Information on the Distribution of the COVID-19 Vaccine (posted January 28, 2021)
Cuyahoga DD is proud to be a part of Ohio's efforts to help people with developmental disabilities access the COVID-19 vaccine. We greatly appreciate the support of Governor DeWine and Director Jeff Davis of the Ohio Department of Developmental Disabilities in making people with developmental disabilities a priority population for this important vaccine.
We are working closely with our local public health agencies and area healthcare providers to plan vaccine clinics and help people get to these clinics when more of the vaccine becomes available.
As the state of Ohio continues to roll out Governor DeWine's vaccination distribution plan, we want to share some important information.
What is Cuyahoga DD's role in helping with vaccine distribution?
Our role is to assist people currently in our DD system who meet required medical criteria identified by the Governor's office and have a developmental disability to access vaccine opportunities as they become available.
If you are currently in our system as someone with a developmental disability, we are aware of you and have the means to contact you to let you know of available opportunities.
I was told to contact my local board of developmental disabilities (DD), but I do not receive services from the county board of DD. What do I do?
We are aware that some people are being told by local pharmacies, doctors or the media to contact us for a vaccine. Unfortunately, we can only support people currently in our local DD system.
If you are not currently in our local DD system, please contact the Cuyahoga County Board of Health or Cleveland Department of Public Health (Cleveland residents only) to learn more about potential vaccine appointments and related information:
I do not have a developmental disability, but I believe I qualify for Phase 1A or Phase 1B. What do I do?
Please contact the Cuyahoga County Board of Health or Cleveland Department of Public Health (Cleveland residents only) to learn more about potential vaccine appointments and related information. (Contact information noted in previous question.)
I received the first vaccine. When will I receive my second vaccine?
You should receive an appointment date for your second shot at the same time that you get your first shot.
*For a PDF copy of this information, click HERE FOR ENGLISH and click HERE FOR SPANISH.
General Information about the COVID-19 Vaccine
Ohio is prepared to distribute safe and effective COVID-19 vaccines statewide with two clear goals: To save lives and slow the spread of the virus. The vaccine has been shown to decrease the severity of illness in people who catch this virus. Having a significant portion of Ohioans vaccinated will help us prevent serious hospitalizations and death. 
Initially, there will be a limited number of vaccines available. Ohio is committed to making the vaccine widely available for those who want to receive it as quickly as possible using a phase-in approach that targets critical audiences first.
Using all the tools available to help prevent the spread of the virus continues to be critical until a substantial number of Ohioans can be vaccinated. Continuing to wear a mask and social distance will reduce your chance of being exposed to or spreading the virus. Proper prevention measures, coupled with the vaccine, will provide the best protection from COVID-19.
Here are some important resources to help you learn more about the COVID-19 vaccine:
Health Passport
The Ohio Association of County Boards of DD has created an optional Health Passport that can be used if someone with a developmental disability has to enter a hospital/medical facility without the assistance of a family member or direct support professional. This "passport" contains basic information about the person, such as health status, medical history and aspects of the person's developmental disability that are important for others to know.
Click here to download the updated Health Passport form.
Important Information and Resources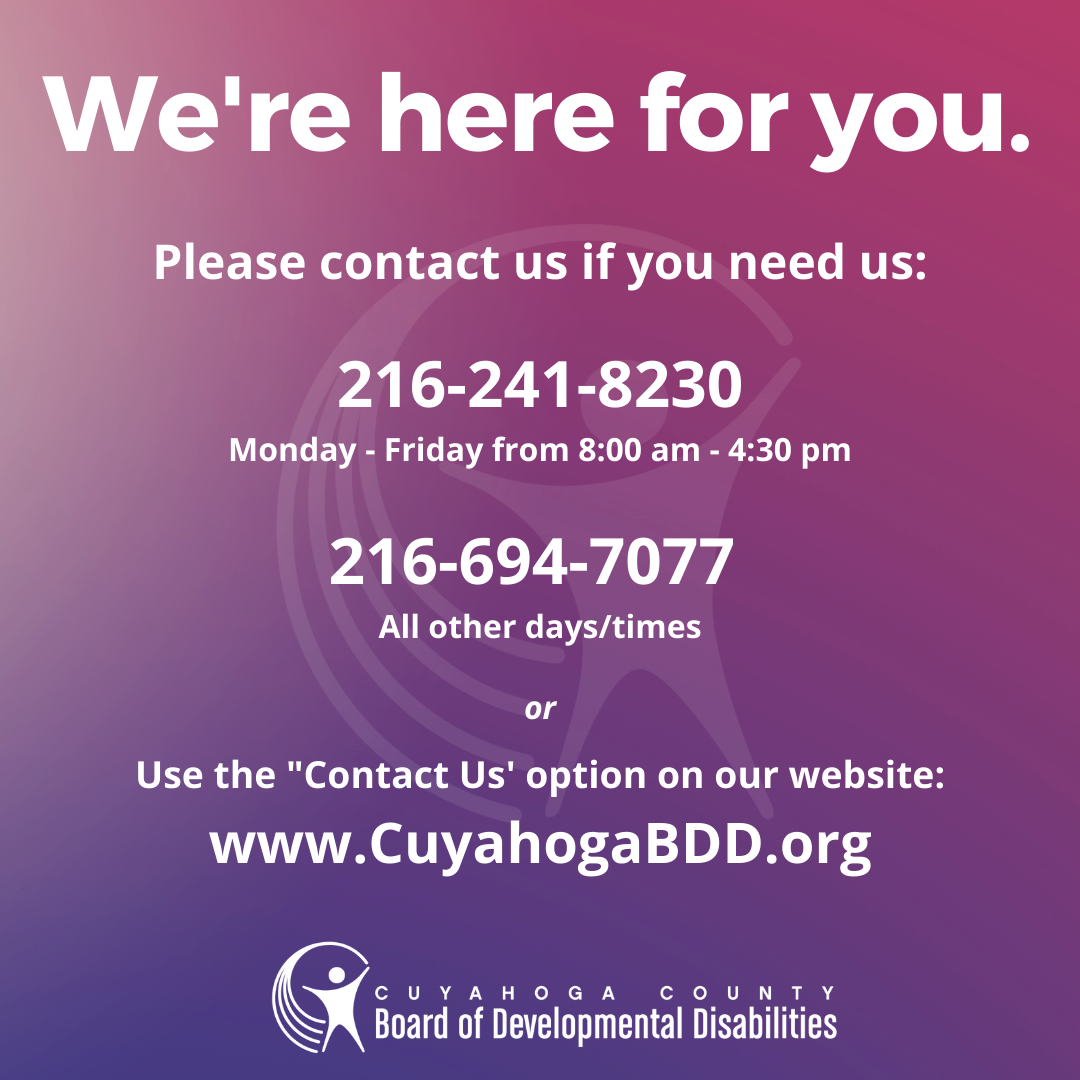 Cuyahoga DD continues to monitor the COVID-19/coronavirus situation and its potential impact on people served and the agency. The health and well-being of all remain our top priority. 
Up-to-date information about COVID-19 is evolving. It's important to get information from credible, reliable and trustworthy sources. Below are local, state and federal agencies that will provide you with the most current and accurate information:
Administration for Community Living- This federal agency has created an information resource page, What do older adults and people with disabilities need to know about COVID-19?

Ohio Department of Health
Cuyahoga County Board of Health
Need help explaining COVID-19 to others? Consider using this resource: COVID-19 Information By and For People with Disabilities. Click here to access this resource in Spanish.
You can also call 1-833-427-5634 for answers to your questions about COVID-19/coronavirus. A live operator is available 9 AM – 8 PM every day.
Emotional support is available for all Ohioans. Call the COVID CareLine at 1-800-720-9616. Help is available 24 hours a day, seven days a week.
Need support from Cuyahoga DD? We're here for you.
Call us at 216-241-8230 Monday-Friday from 8 AM - 4:30 PM.
Call 216-694-7077 all other days/times.
Or click here to use the 'Contact Us' option for non-urgent needs.